single digital one ok rock change 2018, lirik terjemahan one ok rock change cm song honda go vintage joint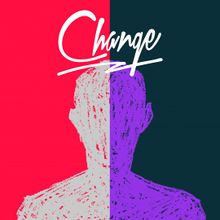 (Cover Digital Single Change / image from generasia.com)
Change
adalah single digital milik band rock Jepang
ONE OK ROCK
, merupakan single digital ke-9 mereka yang dipublikasikan pada 16 Februari 2018 seharga ¥250 di iTunes. Single digital ini hanya berisikan lagu
Change
saja dan terdapat 2 versi yaitu
japanese version
yang hanya tersedia di iTunes Jepang, dan
english version
yang tersedia di iTunes secara global. Perbedaan lagu dari kedua versi ini hanya terletak dalam beberapa baris bagian liriknya saja. Lagu ini juga disiapkan untuk single di album ke-9 mereka,
Album Eye of the Storm
Lagu Change ditulis dan dikomposeri oleh vokalis ONE OK ROCK (Taka) bersama Pete Nappi, Joshua Lewis Golden, Jamil Kazmi, dan Ethan Thompson.
Change
digunakan sebagai
CM Song untuk iklan produk Honda Go Vintage Joint
. Meski mendapatkan kritikan dari beberapa fans mengenai gaya musik ONE OK ROCK yang berubah sejak tahun lalu namun OOR terus berkomitmen untuk membuat sesuatu yang baru dalam gaya musik mereka, lagu ini hampir sama dengan lagu lagu dalam
[Album] Ambitions
dimana mereka lebih menonjolkan musik edm yang mengiringi lagunya. Lagu ini cukup
easy listening
dan liriknya yang bagus.
Saat diwawancarai oleh
rocksound.tv
, Taka berkata
" Kami menulisnya dua bulan yang lalu, sebelum kami melakukan tur kami di Asia. Saya benar-benar membuatnya sendiri dengan produser kami, Saya ingin melakukan sesuatu yang merupakan gaya baru, jenis lagu yang berbeda untuk ONE OK ROCK. Saya ingin membuat getaran baru. Band ini hampir berusia 12 tahun sekarang, jadi saya hanya ingin melakukan sesuatu yang baru. Gaya baru dan hal-hal baru. "
untuk sesi wawancara lengkapnya silahkan kunjungi link
https://www.rocksound.tv/features/read/one-ok-rocks-taka-moriuchi-talks-new-music-and-the-bands-dome-tour
Lirik Lagu dan Terjemahan ONE OK ROCK - Change
(japanese ver.)
If we're not moving forward
What are we moving for?
Feels likes we're losing order
Fighting a losing war
— Jika kita tak bergerak maju
— Untuk apa kita bergerak?
— Merasa seperti kita kehilangan perintah
— Melawan perang yang kalah

We need to work this out
Can't do this by myself
How did we let it go this far?
— Kita perlu menyelesaikannya
— Tak bisa melakukan ini sendiri
— Bagaimana kita membiarkannya sejauh ini?

Hey
You know it's not too late for us to make a change
You gotta listen to your heart what does it say?
No matter how much we might bend we will not break
'cause we got what it takes to stay
Stay
— Hei
— Kau tahu, belum terlambat bagi kita untuk membuat perubahan
— Kau harus mendengarkan hatimu, apa yang dikatakannya?
— Tak peduli berapa banyak kita mungkin lunglai, kita tak akan hancur
— Karena kita dapatkan apa yang diperlukan untuk bertahan
— Bertahan

I know we got the power
Masters of our own fate
Together we are stronger
As long as we got faith
— Aku tahu kita punya kekuatan
— Pemilik nasib kita sendiri
— Bersama-sama kita lebih kuat
— Selama kita yakin

この声で響かす
SOSのサイン
道なき道を進み目指す場所へ
Kono koe de hibikasu
SOS no sain
michinakimichi o susumi mezasu basho e
— Suara yang menggema ini
— Sebuah tanda SOS
— Terus berjalan di jalan tanpa jejak menuju tempat tujuan

Hey
You know it's not too late for us to make a change
You gotta listen to your heart what does it say?
No matter how much we might bend we will not break
'cause we got what it takes to stay
Stay
— Hei
— Kau tahu, belum terlambat bagi kita untuk membuat perubahan
— Kau harus mendengarkan hatimu, apa yang
dikatakannya?
— Tak peduli berapa banyak kita mungkin lunglai, kita tak akan hancur
— Karena kita dapatkan apa yang diperlukan untuk bertahan
— Bertahan

Stay with me now
How are you looking out?
Just stay with me now
We're looking out
We're looking out, we're looking out now
Stay with me now, with me, with me now
Stay
We're looking out, looking out, looking out, looking out
— Sekarang tetap bersamaku
— Bagaimana kau mengawasi?
— Sekarang tetaplah bersamaku
— Kita mengawasi
— Kita mengawasi, sekarang kita mengawasi
— Sekarang tetaplah bersamaku, bersamaku, bersamaku sekarang
— Bertahan
— Kita mengawasi, mengawasi, mengawasi, mengawasi

Hey
You know it's not too late for us to make a change
You gotta listen to your heart what does it say?
No matter how much we might bend we will not break
'cause we got what it takes to stay
Stay
— Hei
— Kau tahu, belum terlambat bagi kita untuk membuat perubahan
— Kau harus mendengarkan hatimu, apa yang dikatakannya?
— Tak peduli berapa banyak kita mungkin lunglai, kita tak akan hancur
— Karena kita dapatkan apa yang diperlukan untuk bertahan
— Bertahan

Stay with me now
How are you looking out?
Just stay with me now
We're looking out
We're looking out, we're looking out now
Stay with me now, with me, with me now
Stay
We're looking out, looking out
Stay
— Sekarang tetap bersamaku
— Bagaimana kau mengawasi?
— Sekarang tetaplah bersamaku
— Kita mengawasi
— Kita mengawasi, sekarang kita mengawasi
— Sekarang tetaplah bersamaku, bersamaku, bersamaku sekarang
— Bertahan
— Kita mengawasi, mengawasi
— Bertahan
* lirik terjemahan by furahasekai