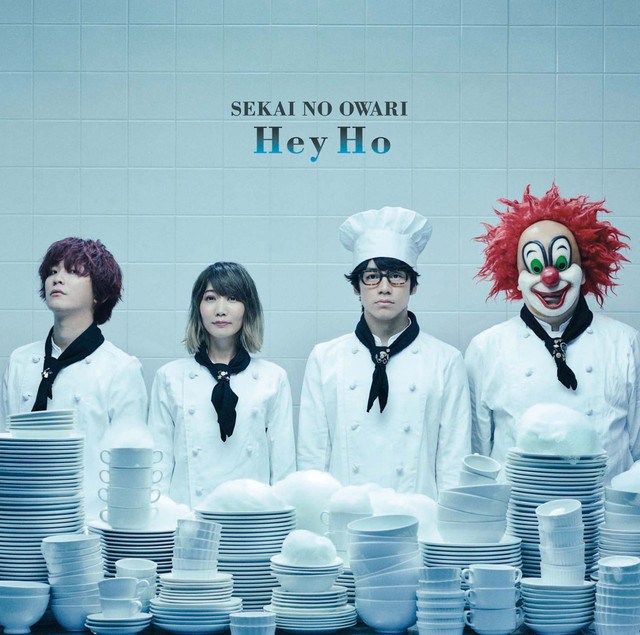 Single Hey Ho Limited Type A cover (generasia.com)
Lip Album cover (jpopasia.com)
Kanji, Romaji, Indonesia
僕は戦うために作られた軍事用ロボットとして生まれた
たくさんの人を傷付けて、勝つたびに褒められた
Boku wa tatakau tame ni tsukurareta gunjiyou robotto to shite umareta
Takusan no hito o kizutsukete, katsu tabi ni homerareta

— Aku terlahir sebagai robot tentara yang diciptakan untuk berperang
— Aku menyakiti banyak orang, mendapatkan pujian setiap kali menang
だけど、1人で戦う美しい君の横顔を見た時、
僕の中でエラーが生まれたんだ
上官はいつも僕に言った
「誰かを愛しちゃいけないぞ。守るものがあると自分が弱くなるからな、
強い男になるんだぞ。」
Dakedo, hitori de tatakau utsukushii kimi no yokogao o mita toki,
Boku no naka de eraa ga umareta nda
Joukan wa itsumo boku ni itta
"Dareka o aishicha ikenai zo. Mamoru mono ga aru to jibun ga yowaku narukara na,
Tsuyoi otoko ni naru nda zo."

— Tapi, saat aku melihat sosok indahmu yang berjuang sendirian,
— Tampaknya ada error yang muncul dalam diriku
— Atasanku selalu mengatakan padaku
— "Jangan mengasihani orang lain. Ada hal yang harus kita lindungi dan karena kita lemah,
— maka kita harus menjadi orang yang kuat"
エラー音がうるさいから
君を殺しちゃおうと思って銃を向けた
でも僕にはそれが出来なかった
僕は君に恋をしてしまったのかな
Eraa-on ga urusaikara
Kimi o koroshi chaou to omotte juu o muketa
Demo boku ni wa sore ga dekinakatta
Boku wa kimi ni koi o shite shimatta no ka na

— Error ini terdengar menjengkelkan
— Aku arahkan pistolku untuk membunuhmu
— Tapi aku tak bisa melakukannya
— Apakah karena aku sudah jatuh cinta padamu?
喜ばせようと思ったのにそんなに花はいらないと言われた日もあった
寝顔が怖いと笑われた日もあった
貴方の作る料理は錆びみたいな味がして最高ねと、褒められた日もあった
なんで君が泣いてるかわからない日もあった
Yorokoba seyou to omottanoni sonna ni hana wa iranai to iwareta hi mo atta
Negao ga kowai to warawareta hi mo atta
Anata no tsukuru ryouri wa sabi mitai na aji ga shite saikou ne to, homerareta hi mo atta
Nande kimi ga nai teru ka wakaranai hi mo atta

— Aku mencoba memikirkan hal yang menyenangkan, ada hari yang tak perlu diungkapkan dengan banyak bunga
— Dan ada hari kita menertawakan wajah tidur yang menakutkan
— Kau membuat makanan dengan rasa terbaik untukku, ada hari aku mendapat pujian
— Ada hari aku pun tak tahu mengapa kau menangis
でもそうやって僕はちょっとずつ弱くなっていったんだ
Demo sou yatte boku wa chotto zutsu yowaku natte itta nda

— Tapi berbuat begitu membuatku sedikit demi sedikit menjadi lemah
「そんなの本当の強さじゃないわ。
もちろん守る誰かがいるのは時に貴方を弱くするでしょう。
でも弱さを知るという事は強いという事なの。」
"Sonna no hontou no tsuyosa janai wa.
Mochiron mamoru dareka ga iru no wa toki ni anata o yowaku suru deshou.
Demo yowasa o shiru to iu koto wa tsuyoi to iu koto na no."

— "Itu bukan kekuatanmu yang sebenarnya.
— Bukankah tentu saja seseorang terkadang ada untuk melindungi dirimu yang lemah?
— Tapi mengetahui kelemahan pun sebenarnya merupakan hal yang kuat."
夜空に容赦なく降る銃弾
弾が当たった事なんかなかったのに
腕の中にいる君を見てわかったんだ
僕は君の家族になりたかったんだ
Yozora ni youshanaku furu juudan
Dan ga atatta koto nanka nakattanoni
Ude no naka ni iru kimi o mite wakatta nda
Boku wa kimi no kazoku ni naritakatta nda

— Tembakan yang jatuh tanpa ampun di langit malam
— Itu bukan tembakan yang menghantam
— Berada dirangkulanmu, bertemu denganmu, aku pahami
— Aku ingin menjadi keluargamu
僕は戦うために作られた軍事用ロボットとして生まれた
たくさんの人を傷付けて、勝つたびに褒められた
Boku wa tatakau tame ni tsukurareta gunjiyou robotto to shite umareta
Takusan no hito o kizutsukete, katsu tabi ni homerareta

— Aku terlahir sebagai robot tentara yang diciptakan untuk berperang
— Aku menyakiti banyak orang, mendapatkan pujian setiap kali menang
English
- I was born as an army robot created for war
- I hurt a lot of people, get praise every time I win

- But, when I see your beautiful figure struggling alone,
- There seems to be an error that appears in me
- My boss always tells me
- "Don't pity others. There are things we must protect and because we are weak,
- then we must be strong people "

- This error sounds annoying
- I aim my gun to kill you
- But I can't do it
- Is it because I've fallen in love with you?

- I try to think of pleasant things, there are days that don't need to be expressed with lots of interest
- And there are days we laugh at the scary face of sleep
- You make food with the best taste for me, there are days when I get praise
- There are days I don't know why you cry

- But doing so made me gradually weaken

- "That's not your true strength.
- Isn't of course someone sometimes there to protect your weak self?
- But knowing weakness is actually a strong thing. "

- A shot that fell mercilessly in the night sky
- It wasn't a hit shot
- Being embraced, meeting you, I understand
- I want to be your family

- I was born as an army robot created for war
- I hurt a lot of people, get praise every time I win
Lirik terjemahan :
furahasekai
English :
hinayume